Grades 6 - 8
9:00 a.m. - 12:15 p.m.
During Westerly's academic year, we've identified areas of interest of the middle school students and aim to deliver a curriculum around those interests while encompassing core academic themes within the context.
---
Session 1 - Culinary Arts
Monday, June 24 through Friday, June 28 (1 Week Session)
Let's be honest, Middle School students love to eat. This course takes students from a love of food to an appreciation and understanding of the fundamentals of cooking. Students will explore various color and flavor combinations, the basics of following recipes, analyze the health and cost of their meals as they independently and collaboratively build a variety of dishes to seduce their palette and bring their taste buds to a more sophisticated level.
This class will cover:
Kitchen skills and safety, Science of cooking, Recipes and measurements, Cooking for an athletic lifestyle, Food photography/marketing, Cooking and Cultures, Personal nutrition, Food costs and planning, Cook-Off Challenges
---
Session 2 - Solar Car Engineering
Monday, July 1 through Friday, July 12 (2 Week Session)
* Camp is closed on July 4th in observance of Independence Day
Design and build your own working solar powered car. In this course, students will use 3D design and printing software, along with other STEM principles to create their own working model car. From designing and 3D printing pieces, to engineering electrical and moving parts, students will go through different stages and prototypes. By the end of the course, students will have knowledge of the engineering process, the creative design process, and a great model car to take home.
Session 3: Two Great Courses in 1 Session...
1) Drawing & Painting and 2)Intro to Problem Solving
Monday, July 15 through Friday, July 19 (1 Week Session)
9:00am-10:30am Drawing and Painting for Middle School
Come join us for some fun drawing and painting projects. There is an academic side to 2D art as well as a fun and creative side. During this session we will have our creative hats on and will be inspired by the surrealists. Students will be creating their own Surreal painting this summer. We will look at various Surreal artists and the techniques that they used to create their dream like master pieces. We will also be incorporating color theory into this painting and use a color palette that each student will select on their own. Come join the fun!
10:45am-12:15pm Intro to Problem Solving
This course is designed for middle school students who have an interest in logic, puzzles, and non-routine math problem solving. We will practice problem-solving skills through working on math riddles, logic puzzles, and brainteasers in a collaborative manner. We may discuss the history and development of some math ideas, as well as create our own riddles!
---
Session 4 - Video Game Design with Scratch Coding
Monday, July 22 through Friday, August 2 (2 Week Session)
Build your own video game world by learning and using Scratch coding program. Through this course, students will let their creativity flow while learning and applying computer-programming skills and coding. Students will learn to how to create characters, backstories, build animation, and test and share creations with others. Students will have ownership over their content and learn skills to keep expanding their gaming and programming knowledge.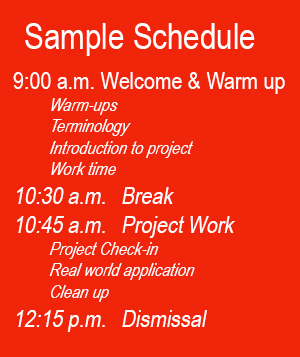 Afternoon Program
Middle School students looking to stay for full day will be offered assistant roles to support our afternoon teaching staff in a variety of ways: enhancing the thematic environment through art, mentoring younger campers, and supportive cooperation in outdoor/athletic activities. Must let us know during registration process if your child will stay on for afternoon.