Beginning Paths: Around the World
Morning Enrichment 9:00 a.m. - 12 p.m.
Grab your passports and pack your bags! Join us as we explore countries near and far. Students will explore these countries and their cultures through read alouds, crafts and cooking.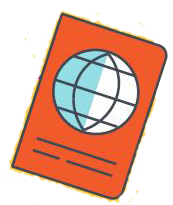 Songs, dance and science are even greater ways of learning about a place that they only dream of visiting. The Beginning Paths program encompasses all subject areas and prepares students for the routines and expectations of kindergarten. This robust and engaging class is the perfect summer opportunity for kinder students.
For Summer 2020: Students will have plenty of opportunities to enjoy collaboration and engaging activities in classrooms with safety protocols in place, along with outdoor time and supervised activities on our fields and blacktop. Our playgrounds and some equipment will be closed.